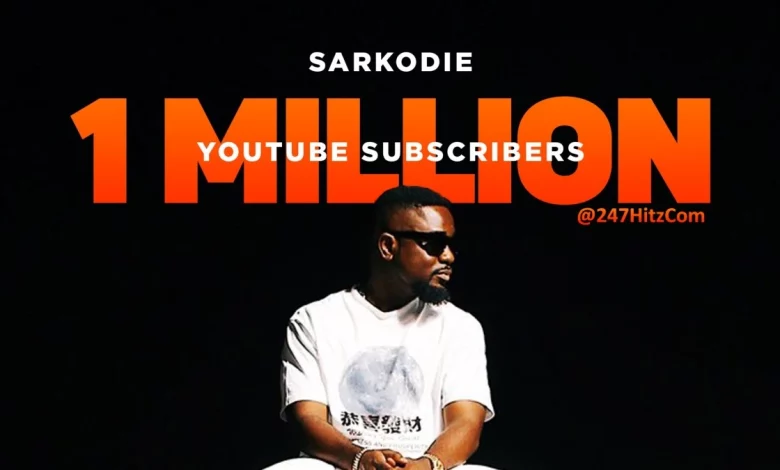 Ghanaian Rapper Sarkodie Achieves Remarkable Milestone
Sarkodie Hits 1 Million Subscribers on YouTube
In a momentous triumph for Ghanaian music, celebrated rapper Sarkodie has reached a significant milestone on his YouTube channel.
Sarkodie Hits 1 Million Subscribers on YouTube
On July 13, 2023, Sarkodie's channel surpassed an impressive one million subscribers, cementing his status as one of Africa's most influential artists in the digital realm.
This remarkable achievement not only highlights Sarkodie's immense talent and popularity but also underscores the power of his music to captivate and resonate with a global audience.
DISCOVER: 10 Proven Strategies for Acing Your F1 Visa Interview: Insider Tips and Expert Advice.
Unveiling the Journey
Sarkodie's journey toward this momentous milestone has been marked by sheer dedication, unwavering commitment, and an innate ability to connect with his fans through his music.
From his humble beginnings in the Ghanaian music scene to his meteoric rise to fame, Sarkodie has consistently pushed boundaries and set new standards, earning him a devoted following across the globe.
YouTube's Role in Sarkodie's Success
YouTube, as a platform, has played a pivotal role in Sarkodie's career, serving as a digital stage for his artistic expressions and a medium to connect with his fans.
Through captivating music videos, thought-provoking lyrical content, and powerful performances, Sarkodie has been able to showcase his talent to a vast audience, transcending geographical boundaries and capturing the hearts of music lovers worldwide.
READ ALSO: Importance of Miracle Leaf You Need to Know.
The Impact of Sarkodie's Music
Sarkodie's music carries a distinctive blend of infectious beats, witty wordplay, and insightful storytelling that resonates with listeners from diverse backgrounds.
His ability to effortlessly switch between English and Twi, a local Ghanaian dialect, adds depth and authenticity to his lyrical compositions, further amplifying his appeal.
From hard-hitting rap verses to melodic Afrobeat-infused tracks, Sarkodie's versatile style has garnered widespread acclaim and propelled him to the forefront of the African music scene.
A Voice for the Youth
Beyond his musical prowess, Sarkodie has emerged as a prominent voice for the Ghanaian youth, using his platform to shed light on societal issues, inspire positive change, and advocate for progress.
Using his music, he has addressed topics such as social inequality, corruption, and the importance of education, which have effectively sparked conversations and empowered his fans to take action.
EXCLUSIVE: Heartwarming Encounter: Nana Ama McBrown Surprises Blind Fan in Kumasi, Transforms His Day with a Generous Gift!
Sarkodie's Global Recognition
Sarkodie's impact extends far beyond the shores of Ghana, earning him international recognition and collaborations with renowned artists from around the world.
His ability to seamlessly fuse Ghanaian music with global influences has resulted in groundbreaking collaborations with the likes of Wizkid, Burna Boy, and Drake, further solidifying his position as a trailblazer and cultural ambassador for African music.
Celebrating SarkCess and Inspiring the Next Generation
As Sarkodie's YouTube channel crosses the remarkable one million subscriber mark, it serves as a testament to his artistry, dedication, and unwavering support from his fans.
This achievement not only recognizes his immense contribution to the music industry but also serves as a source of inspiration for aspiring artists in Ghana and beyond, reminding them that with passion, perseverance, and innovation, dreams can become a reality.
ESSENTIAL: McBrown Drops Bombshell: The Truth Behind United Showbiz Exposed!
Looking Forward
With this extraordinary milestone as a testament to his widespread appeal and influence, Sarkodie's journey is far from over. As he continues to evolve as an artist, it is certain that he will captivate audiences with his exceptional talent, shape the future of African music, and leave an indelible mark on the global music landscape.
Conclusion
Sarkodie's achievement of reaching one million subscribers on YouTube is a momentous occasion, signifying his stature as a musical icon and Ghana's proud cultural ambassador.
His ability to connect with fans through his music, his unwavering dedication, and his commitment to using his platform for positive change have set him apart.
As we celebrate this milestone, we eagerly anticipate Sarkodie's future endeavors and the continued impact he will undoubtedly make on the music industry.
From: InfoguideGhana | Ghanaian Rapper Sarkodie Hits 1 Million Subscribers on YouTube